SANDRA KNIGHT
B I O G R A P H Y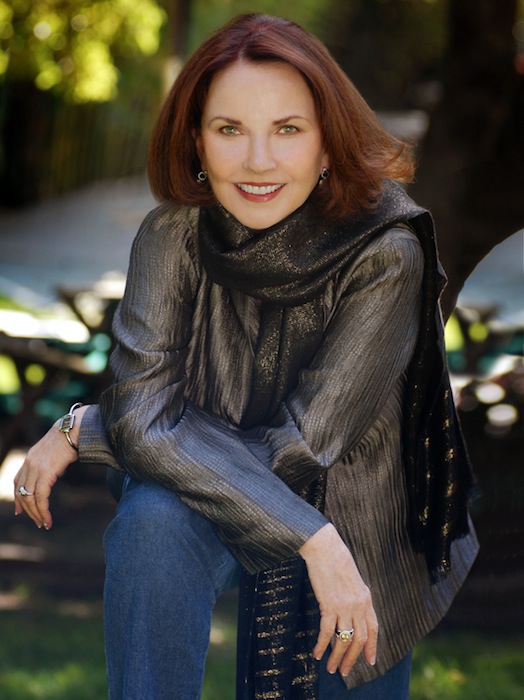 B
orn in Philadelphia, Pennsylvania, brought up in Los Angeles from early childhood, Sandra Knight, (maiden and professional name) performed as a child – singing, dancing, acting and modeling.  She had one of her first "gigs" performing as the lead singer in her group, called, the "String Busters" playing Ukulele, with her back up on guitar and steel guitar when she was 9 years old.  After high school she continued to perform while attending Santa Monica City College in the now famous, "Children's Theater."  This was the first of its kind in Los Angeles to tour schools and give to the community of its local City College talent.
During a talent show Sandra was spotted while singing "The Last Time I Saw Paris", by an agent from Hollywood.  Sandra was immediately signed and within a few months was starring at a Hollywood Theater in the lead role of the comedy, "The Moon is Blue."  From that play she was spotted again by a casting agent who suggested her for the leading role opposite Robert Mitchum in his independent film production of "Thunder Road."  She won the part in a major talent search after Mitchum had interviewed over 300 young women.  From that role Mitchum and 20th Century Fox, Paramount and Columbia Studios offered Sandra contracts.
She went on to star in 5 feature films, and over 35 featured and starring roles in Television.  She studied acting during her career, with Marty Landau and Jeff Corey.  She starred with such actors as, Vincent Price, Rod Cameron, Boris Karloff, Dale Robertson, Betty Davis, Jack Nicholson and John Astin.  She had the privilege of working with such renowned directors as, Richard Donner, Francis Ford Coppola, Arthur Ripley, Tay Garnet, Roger Corman and Irvin Kershner.
While pursuing her career as an actor she also kept busy at UCLA, LACC and Otis Art Institute, studying philosophy, painting, and writing.  She continued her pursuit of painting for eight years by studying privately and in small classes with still life and portrait painter Helen Winslow, a well-known American Impressionist.
In the 80's she wrote her first screenplay, "King City", with her husband John Stephenson, and formed a production company, "Synergy Production."  She went on to write other screenplays, "Loving on the Wrong Side of the Brain", "The Contest", "A Question Of Balance", and "The Listening Lady."  She also wrote many children's stories, "The Coconut Tree", and "The Secret of the Rain Forest", and the play, "Pagoda Hangout."
Sandra has served on the Board of Directors of the Hawaii International Film Festival, is a member of the Society of The Honolulu Academy of Arts, and belongs to the Contemporary Museum of Art in Honolulu and the Honolulu Symphony. She has been instrumental in bringing talent and contributors from Hollywood and New York to participate in the Hawaii International Film Festival, The Contemporary Museum of Art and other cultural events in the state of Hawaii.Biography